What's better than a FREE homeschool planner printable?! Who here likes to plan?! Guess what?! I don't! I'm not a planner. Not when it comes to writing paper plans.
I know how many assignments my kids need to do for each subject each week, so I just make sure they get those done and we do them in order. When we're done with lesson 34, we move onto lesson 35. There's no reason to write this stuff down, right!? Wrong…well, at least in my case.
Why do I need to use a homeschool planner?
I get it, some states require you to keep a portfolio or very detailed description of your lessons to show them, either at required meetings, or if they were to ever audit you. I've been lucky enough to homeschool in states that don't require this. It has caused me to get a bit lazy, though.
How has this negatively affected us? Well, my nine year old has accidentally skipped assignments because of this!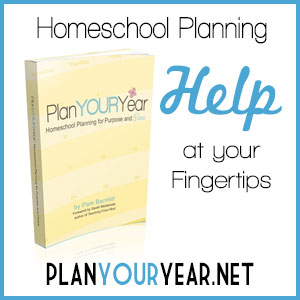 This past year, while he has been doing fourth grade work, he has been able to be pretty independent. In years past, if there was work he could do alone, he would bring me the book and I would give him the pages he needs to do. This past year, however, he just knew to move onto the next assignment without me asking.
Sometimes, he would accidentally skip an entire chapter. Oops.
Who are these homeschool planning pages for, any way?
So, this is my (hopeful) solution for next year… But, guess what? I'm not planning on filling it out! In an additional step to independence, I'm going to have him fill it out. Oh yeah, you heard me right.
Of course, I will be a good mom and will show him how he should do it the first few weeks, and make sure to double check in once he's got it figured out. I'm not a monster, after all.
A look inside…
I've created two different versions of the weekly homeschool planner printable. One is with more of a primary color scheme…
And another with a more pastel color scheme…
You have a bit of freedom with this, too. I didn't fill out the subjects for you because I wanted you to be able to easily customize what you want to put in there. You can see I added spelling, LA/Reading, math, science, history, and a spot of extracurriculars. This let's you be able to even customize it differently for each child.
So, slap this puppy in a binder and get ready for the whole year, print it out a month at a time, a week at a time, or laminate it (I think I will do the latter!) and put it up on the side of a shelf. Whatever you do, I hope it helps you have a more organized school year!
Get your free printable!
To get your free weekly planner, sign up for my emails below. You will receive access to all of my freebies in your welcome email (Already a subscriber? Head to the Subscriber's Studio now!)
But, what about a planner for mom?
I've created The Best Homeschool Life Planner for all of your planning needs! There are pages for your monthly and weekly planning, meal plans, morning basket plans, attendance records, and more!
If you enjoyed this, don't stop here! Make sure to join my online homeschool community!
For more awesome homeschool planning resources, you can also click the image below!